MS-13 Targeted in Gang Sweep, 37 Indicted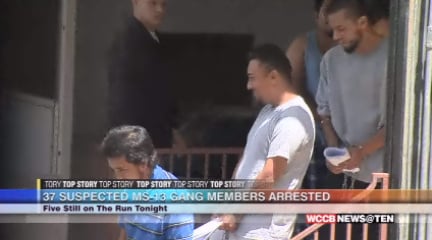 [gtxvideo vid="PBi78Drx" playlist="" pid="Bbt3TRDe" thumb="http://player.gtxcel.com/thumbs/PBi78Drx.jpg" vtitle="ms13 arrests"]
CHARLOTTE, NC — 37 suspected members of a notoriously dangerous gang, MS-13 are in jail after FBI agents and law enforcement raided their Charlotte area homes Wednesday.
16 were arrested Wednesday morning, 16 were already in jail for state charges and 5 are still on the run.
It's the second large gang bust in the last 30 days in the Queen City.
75 pages of indictments are packed with crimes of the 37 accused MS-13 members, crimes centered mostly in Charlotte and Rock Hill.
They include drug trafficking, brutal robberies, assaults and four murders.
"We got a lot of children, small babies, teens in this neighborhood, " said Gene Harper. "That's not good."
Harper's family lives in a South Charlotte neighborhood off Sharon Lakes Road, where US Attorneys say MS-13 member Miguel Zelaya murdered Jose Ibarra in 2013.
Federals say the suspects lived in Charlotte, Kannapolis, Concord and Rock Hill.
"They're willing to shoot indiscriminately when they conduct their acts of violence," said Former FBI Assistant Director Chris Swecker. "They'll intimidate witnesses, they'll force young women into prostitution, engage in extortion, drugs." 
Swecker says while local communities denied gang problems for years, federal agents have busted members of MS-13 for at least a decade.
"There was a decision made a long time ago that this gang presented a danger to every community where they had a presence," said Swecker.
As part of Wednesday's gang raid, officers arrested Christian Pena and Luis Ordonez-Vega.
Prosecutors accused them of murdering Noel Hernandez in 2014 on Old Pineville Rd.  
Nicole Villagomez's husband is one of the suspected gang members charged with Rackateering.
"We were bum-rushed at 5:00 in the morning, FBI bust in saying my husband was part of the MS-13 gang which he has nothing to associate with them," said Villagomez.
The suspects will be back in Federal Court May 26 for detention hearings.
The five on the run are Salvador Ruiz of Kannapolis, Luis Villalta of El Salvador, Miriam Barilles-Escamilla of El Salvador, Marvin Fuentes-Canales of El Salvador and Neris Gutierrez of Guatemala. 
The list of 37 indicted include:
ï'· Carlos Almote a/k/a "Rabioso," 25, of Charlotte. (in state custody)
ï'· Jose Danny Argueta a/k/a "Shadow," 23, of Charlotte. (in state custody)
ï'· Miriam Barilles-Escamilla a/k/a "Gata," 26, of El Salvador. (not arrested)
ï'· Juan Bergamasco-Suarez a/k/a "Temper" or "Kilo," 21, of Charlotte. (in state 
custody)
ï'· Milton Chavarria a/k/a "Syko," 23, of Charlotte. (in state custody)
ï'· Raul Contreras a/k/a "Smoke," 24, of Charlotte. (in state custody)
ï'· Luis Erazo a/k/a "Joker," 24, of Honduras. (arrested)
ï'· Marvin Fuentes-Canales a/k/a "Crazy," 22, of El Salvador. (not arrested)
ï'· Luis Funes-Rivera a/k/a "Demonio," 20, of Charlotte. (in state custody)
ï'· Jorge Garcia a/k/a "Shorty," 25, of Charlotte. (arrested)
ï'· Cesar Garcia-Perez a/k/a "Vikingo," 35, of Charlotte. (in state custody)
ï'· Saul Gavidia a/k/a "Scrappy," 20, of Landis, N.C. (arrested)
ï'· William Gavidia a/k/a "Duro," 23, of Kannapolis, N.C. (arrested)
ï'· Raul Guardado a/k/a "Guanaco," 42, of Charlotte. (arrested)
ï'· Neris Gutierrez a/k/a "Oso" or "Furioso," 26, of Guatemala. (not arrested)
ï'· Angel Hernandez a/k/a "Taz" or "Magic," 24, of Rock Hill, S.C. (arrested)
ï'· Jose Manuel Linares a/k/a "Chepito," 21, of Charlotte. (arrested)
ï'· Rene Lopez-Ventura a/k/a "Mafioso," 32, of Charlotte. (arrested)
ï'· Jose Moran-Celis a/k/a "Lil Silent," 20, of Charlotte. (arrested)
ï'· Daniel Navarro a/k/a "Lunatico," 21, of Charlotte. (in state custody)
ï'· Jonathan Noble a/k/a "Ghost," 22, of Charlotte. (arrested)
ï'· Luis Ordonez-Vega a/k/a "Big Boy," 36, of Concord, N.C. (in state custody)
ï'· Christian Pena a/k/a "Pitbull," 19, of Charlotte. (in state custody)
ï'· Jorge Perez a/k/a "JP Bukie," 30, of Charlotte. (arrested)
ï'· Victor Pineda a/k/a "Chele," 23, of Charlotte. (arrested)
ï'· Rosendo Rivas a/k/a "Jester," or "Demonio" or "Nene" 24, of Rock Hill. (in state 
custody)
ï'· Fec Rodriguez-Vareal a/k/a "Chelito," 28, of Charlotte. (arrested)
ï'· Salvador Ruiz a/k/a "Chava," 26, of Kannapolis. (not arrested)
ï'· Jorge Sosa a/k/a "Koki" or "Loco," 23, of Charlotte. (in state custody)
ï'· Oscar Trejo a/k/a "Trigger" or "Maliente," 23, of Charlotte. (in state custody)
ï'· Jaime Turcios a/k/a "Pitufo" or "Smurf," 24, of Charlotte. (arrested)
ï'· Jose Vasquez a/k/a "Muneco," 26, of El Salvador. (arrested)
ï'· Marlon Vasquez-Maldonado a/k/a "Gangster," 23, of Charlotte. (in state custody)
ï'· Albert Vela-Garcia a/k/a "Conejo," 25, of Landis. (arrested)
ï'· Luis Villalta a/k/a "Little Psycho," 25, of El Salvador. (not arrested)
ï'· Alexis Villalta-Morales a/k/a "Rikichi," 23, of Charlotte. (in state custody)
ï'· Miguel Zelaya a/k/a "Most Wanted," 19, of Charlotte. (in state custody)