Confederate Flag To Be Moved To Confederate Relic Room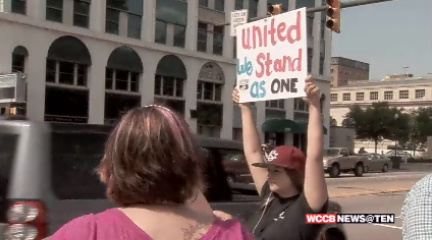 [gtxvideo vid="z52rBV9h" playlist="" pid="Bbt3TRDe" thumb="http://player.gtxcel.com/thumbs/z52rBV9h.jpg" vtitle="flag removed"]
COLUMBIA, SC — In 12 hours a symbol some call hate, and others call history, will come down from the state Capitol grounds.
Thursday, Governor Nikki Haley signed the bill into law that would remove the flag and place it in the South Carolina Confederate Relic Room and Military Museum. Locals call the move momentous. 
After nearly 60 years on Capitol grounds, and nine deaths in the admitted hate crime that was the Charleston shooting nearly three weeks ago, lawmakers made swift moves to take down the flag.
Former State Senator from Mecklenburg County Malcolm Graham's sister was killed in the shooting. He watched as the Governor signed the bill.
 "It's a shame that a tragedy had to occur in order for action to be taken on a Confederate flag," said Graham. "The flag is finally coming down. It doesn't relieve the heartache, the pain that we're feeling with the loss of my sister, Cynthia, so it's a bitter-sweet day."

Outside the Capitol, crowds chanted praise of the Governor. Flag removal supporters call it a step toward relieving racial tensions.
 "I am very disturbed that the same flag was used to kill former Senator Clementa Pickney and those precious eight," said Rev. David Kennedy outside the Capitol. "I want it down because it presents the worst of the state of South Carolina."
"I think that's just a part of the process to show that we're all coming together," said Kim Johnson. "Something that hurts one of us, it should hurt all of us."
Brighton Lester was one of the few who flew the flag outside the Capitol after the vote to remove it.
"A lot of radical groups in the past have totally desecrated the meaning of this flag," said Lester. "What I believe it represents has nothing whatsoever to do with anything racial. It's a battle flag for people who stood up for what they believe in."
For those who lost family in Charleston, its removal is now a symbol of healing.
"We just have to find a way for everybody to work together," said Graham.