Flag Controversy Trickling Up to North Carolina License Plates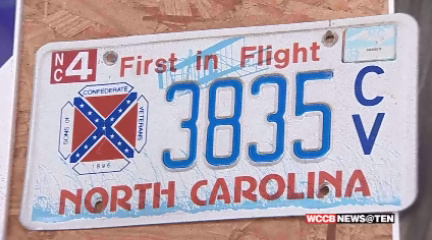 [gtxvideo vid="y0WSZn4t" playlist="" pid="Bbt3TRDe" thumb="http://player.gtxcel.com/thumbs/y0WSZn4t.jpg" vtitle="flag plates"]
CHARLOTTE, NC — A political battle is in the works after thousands petitioned lawmakers to stop issuing the Sons of Confederate Veterans plates that use the battle flag as a symbol.
Advocacy groups are calling on Governor Pat McCrory to use executive authority to stop the state from issuing the plates. He passes the authority off to legislators.
When Bill Starnes hops in his truck, he's driving with the message of the Confederate Battle Flag symbol on his plate.
"I know what the war was about," said Starnes. "It wasn't about slavery. If it was about slavery, I wouldn't fly the symbols. I know what it was about: a political war primarily over money."
Protests surrounding the Charleston church massacre and the removal of the flag from the South Carolina Capitol grounds are trickling up to the plates. Some lawmakers are seemingly avoiding making a decision.
"We're in this big 'toe dance' as I call it," said Representative Kelly Alexander, (D) Mecklenburg County. 
Rep. Alexander says the flag is not just a symbol of Sons of Confederate Veterans. He says many consider it a symbol of hate, and the state should not promote it.
"My problem, and the problem with many legislators, simply is that we think the Confederate flag on the plate is now inappropriate," said Rep. Alexander.
"Your bumper sticker, your car, but the license plate, essentially, you never own the plate. The state owns it."
We called all Republican representatives in Mecklenburg County. Those who returned calls declined to comment.
Governor McCrory wants to remove the plate, but insists legislators will have to change the law so he and the DMV can deny civic groups plates containing images or words that could be  offensive. 
"The Governor has made it clear he wants to end the issuance of North Carolina license plates that bear the Confederate battle flag," said Graham Wilson, the Governor's press secretary. "
But the law doesn't give him the authority to do so. 
It's time for the General Assembly to provide the governor the legislative fix he needs so that this issue can be resolved once and for all."
Some lawmakers say the group should consider changing the symbol. 
"Because these ignorant people use our symbols, we need to change. I don't think we do," said Starnes. 
The DMV is only supposed to issue the plates to card carrying Sons of Confederate Veterans.