Kerrick Trial: Witnesses Testify on Use of Deadly Force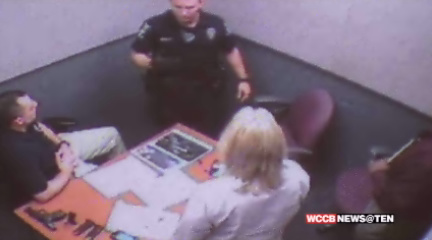 [gtxvideo vid="ePfdE6DM" playlist="" pid="Bbt3TRDe" thumb="http://player.gtxcel.com/thumbs/ePfdE6DM.jpg" vtitle="deadly force"]
CHARLOTTE, NC — Witnesses broke down the law on the use of deadly force for jurors Monday.
It was the start of week two of testimony in the high-profile case in which CMPD Officer Wes Kerrick shot an unarmed Jonathan Ferrell ten times in September 2013.
For the first time, jurors watched Officer Kerrick act out how he says Ferrell struggled with him on the ground in an interview with detectives after the shooting.
"I felt like if, if I did not shoot at him, that he, he was acting like he was going to cause me harm," Officer Kerrick told investigators. "I felt like he would take my gun from me."
That, coupled with dash camera video of the moment Ferrell ran toward officers before the gunfire are just some of the factors Capt. Mike Campagna used to evaluate Officer Kerrick's decision to use his gun.
"The force of self defense shall be no greater than necessary to fend off the attack," said Capt. Campagna.
He told jurors CMPD officers can use deadly force in three scenarios: if an arrest subject is trying to use a weapon to seriously injure the officer, if they're using a weapon to escape or if the officer believes if they do not arrest the person, they will seriously injure someone else.
"But when you're making an arrest, you're always assessing from what level of force is appropriate," said Capt. Campagna.
Officer Kerrick told detectives that night that he knew another officer had a taser pointed at Ferrell.  He said he chose a more deadly form of force because he didn't know if Ferrell was armed.
"At any point did you consider reholstering and going hands on?" one detective asked in the recording. 
Kerrick responded by saying, "No, I didn't have time to reholster my weapon."
Prosecutors questioned a training academy supervisor, Sgt. C.R. Williams. He explained the details of police training and qualification tests. He testified it took Officer Kerrick three times to pass the use of force testing. It's a multiple choice test of 25 questions. Trainees must get all 25 correct to pass. Attorneys didn't address how often test takers retake the test.
Prosecutors pointed out last week that Officer Kerrick turned his dash camera video off when he arrived to the scene where Ferrell was standing. They asked Sgt. Williams what protocol is in place when it comes to dash camera video recording. He told jurors once the camera is activated, the officer should keep it on until the scenario is finished. 
Officer Kerrick's attorneys pointed out mud on his uniform and Ferrell's pants, insisting the pair struggled.
They showed photos of the view Ferrell had that night when police arrived. In the photos, the police logo was visible.
Attorneys haven't asked Capt. Campagna how he evaluated Officer Kerrick's weapon use. Jurors will continue with his testimony Tuesday morning.