Are Local Employers Doing Enough for Worker Mental Health?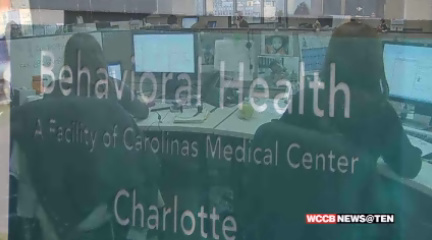 CHARLOTTE, NC — There were nearly 400 workplace homicides in 2013, the most up-to-date data reports.
Wednesday's tragic shooting of two journalists on air is one of the at least four workplace-related killings in the past year.
After killing journalists Alison Parker and Adam Ward, Vester Flanagan revealed in a 23-page manifest, "I've been a human powder keg for a while… just waiting to go BOOM," perhaps recognizing his mental state.
"I think businesses now realize, especially if you have a large workforce, a lot of our people are suffering with mental illness," said Charlotte Psychiatrist Dr. John Santopietro.
The Chief Clinical Officer of Behavioral Health at Carolinas HealthCare System says statistics show one in four employees are suffering.
Local Businesses are beginning to reach out to his team for the Mental Health First Aid eight-hour course.
It educates workers about the signs of mental illness and coaches them on how to approach others about it.
Just 3,000 in the Queen City have completed the course. 
Only 500,000 in the U.S. have completed it in the past eight years.
"I would say we could be doing a better job," said Dr. Santopietro. "We haven't prepared people enough to know what the signs are to look for."
Human resource representatives tell us they offer troubled employees mental health  treatment, but if they have to terminate, they evaluate the risk. They do have the option of locking ex-employees out of the building.
Two years passed since Flanagan had been fired and escorted out of WDBJ.
"People aren't going to pick up the phone and say, 'Oh, I want to see a psychiatrist today,'" said Dr. Santopietro. "It happens, and we're glad it's happening more."
More than 75 percent of North Carolina employers do have an employee assistance program in place where workers can call therapists anonymously.
Doctors say most people don't call. Instead, EAP programs say managers call weekly, asking for advice on how to deal with troubled employees.
For an overview of the Mental Health First Aid course,
click here
.