Supporters, Opponents Debate Proposed LGBT Anti-Discrimination Ordinance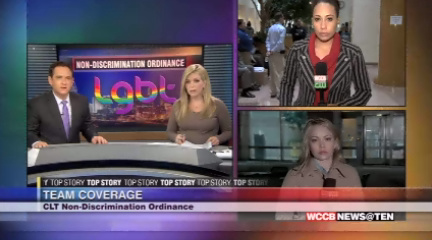 [gtxvideo vid="rrW4hrYi" playlist="" pid="Bbt3TRDe" thumb="http://player.gtxcel.com/thumbs/rrW4hrYi.jpg" vtitle="anti-discrimination bill"]
UPDATE: Last night, after a debate that lasted for about 5 hours, the Charlotte City Council voted down the proposal to amend the city's existing no-discrimination ordinance.
CHARLOTTE, NC — A fight for civil rights took place at the government center Monday night.  LGBT supporters say their rights are at stake.  Opponents say the rights at stake are theirs.  City Council is scheduled to vote on whether to add protections for the LGBT community to the current non-discrimination ordinance.
The proposal adds four protected classes to Charlotte's existing non-discrimination ordinance.  That includes gender identity, sexual orientation, family status and marital status.  Those groups would be protected in three ways: when using public accommodations like restaurants, parks or restrooms, when using taxi cabs, and when contracting with the city.
"This small minority of people wants to use the government to bully and overcome the majority, and overcome the law of God," said speaker Ante Pavkovic at the City Council meeting Monday night.
"We do not need to blaze some new trail that the majority of people in this city do not agree with," said Jeanette Wilson.
"We will make sure that everyone knows who you are, how you voted, what you stand for, and that you are not reelected," said Katherine Pavkovic to council members.
The group Don't Do It Charlotte is behind the push to get council members to vote against changes to the city's anti-discrimination ordinance that would protect gender identity and sexual orientation.
"If they feel like the women, with breasts and a vagina can expose it, what's gonna make them think that they can't expose their penis?" said another speaker.
There was a lot of focus on the possiblilty of transgender men and women being able to use the restroom they associate with.  Some say this could expose children to sexual predators.
"If any molester ever comes in the restroom and molests my little eight-year-old granddaughter, somebody's gonna be hurting," said another speaker.  "And I'm gonna hold every one of you accountable, and God is too."
Opponents say the changes could cause business owners to violate their religious beliefs by serving LGBT members.
"That man that feels uncomfortable in the men's room, the ordinance would give the right to two restrooms.  While the women who feel uncomfortable will get zero.  That is not equality.  That is discrimination," said another speaker.
Those who want the LGBT community added to the anti-discrimination ordinance tell us they are angry after hearing people openly speak against their equal rights at the government center Monday night.
"It makes me very angry," said LGBT activist Paige Dula.  She and dozens of other supporters argued that Charlotte's businesses shouldn't be allowed to deny services or restrooms to people based on their gender identity of sexual orientation.
"It's a privilege the City of Charlotte gives you to open a business," said activist Sam Bishop.  "If you choose to have that privilege, you also have to choose to serve the whole public."
To the opposition who says criminals will dress as women to prey on others in public bathrooms…
"If a man walks into a woman's restroom and commits a crime, it's a crime, and that person will be arrested," said Bishop.
The LGBT community told council in the 40 years Minneapolis has had a similar ordinance, no one has dressed as a woman to enter a restroom to commit a crime.
"These anti-discrimination measures are already in place in 17 states and over 200 municipalities around the country.  This is not new stuff," said Bishop.
Supporters pointed out that sexual abuse happens anywhere.
"I was actually molested in the church I grew up in," said one supporter.
Transgender residents say if this ordinance passes, nothing will change for most business owners and patrons, but…
"We'll have the same rights the rest of the City of Charlotte enjoys," said Dula.
Look for updates on our homepage as this story develops.