Kerrick Trial: Jury Selection Continues, Some Potential Jurors Express Concern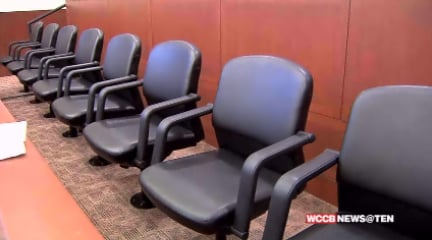 [gtxvideo vid="jqEd2Xgh" playlist="" pid="Bbt3TRDe" thumb="http://player.gtxcel.com/thumbs/jqEd2Xgh.jpg" vtitle="juror concerns"]
CHARLOTTE, NC — Potential jurors in the criminal trial for CMPD Officer Wes Kerrick are concerned about their private information being made public.
Attorneys continued questioning the first group of 12 possible jurors Wednesday, dismissing one by the end of the day.
Thursday the court will bring in a fresh potential juror to replace him. 
All 12 sat in the jury box on day three of selection.
Attorneys questioned potential jurors one at a time in front of the group to see who can give Officer Kerrick a fair trial. He's charged with voluntary manslaughter for shooting Jonathan Ferrell 10 times. 
Ferrell didn't have a weapon. 
Potential jurors questioned the judge Wednesday because of media posting their answers from the courtroom.
The judge then banned all electronics until attorneys pick 12 unbiased jurors.
To do that, attorneys are asking the same questions to each person such as: Have they had any negative experiences with police officers? Do they know anyone who's been arrested? What are their feelings on alcohol and drugs?
WCCB Charlotte legal contributor James Ferguson says the questions point back to evidence that attorneys on both sides of the Kerrick case say will come up in trial.
"It's not just a question of asking a juror whether he or she can be fair," said Ferguson. "I think most people try to be fair. The real issue is: can a juror be fair in this context under these circumstances?"
The judge dismissed the first of this group because he repeatedly said he couldn't come up with a verdict with lingering fear that it could affect his business and safety.
It has taken up to an hour to question some in the group.