Kerrick Trial: Jurors Head Into Day Three Of Deliberations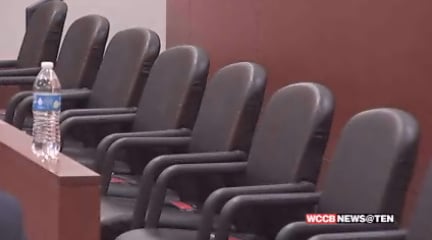 CHARLOTTE, NC — Juror deliberations will continue for a third day Thursday in the voluntary manslaughter trial of CMPD Officer Wes Kerrick.  Jurors couldn't reach a verdict Wednesday, and had several requests for the judge.
After of hours into day two of deliberations, jurors wanted to review the information that caused question for many over the past two years.  Jurors wanted to see a lot of the key evidence in this case.  The problem is the judge had to figure out how to get it to them since there is so much.  And a lot of the video requires technology.
A cloud of evidence looming.  Officer Wes Kerrick and Jonathan Ferrell's family watched as attorneys argued over a lengthy list of juror needs and CMPD's use of deadly force directive.  
Jurors were after the dash camera video showing Ferrell running toward Officer Kerrick, Officer Kerrick's interview after shooting the unarmed man ten times and interviews of other officers on scene.  Then there's the CMPD policies on deadly force and the use of force continuum that explains when an officer uses different levels of force, because jurors heard conflicting testimony from expert witnesses.
Police Training Expert Dave Cloutier said during testimony on Monday: "The fact he discharged his firearm comports or is consistent with basic law enforcement training the Charlotte-Mecklenburg policy regarding the use of force."
Last week, CMPD Captain Mike Campagna said, "The decision to draw a firearm based on fact that other officer has drawn taser is not consistent with our policy."
The judge provided the deadly force information, and allowed jurors to watch the dash cam video in slow motion and regular speed in the courtroom.  It took at least two hours to get a computer in the jury room that would only give them access to that video to watch it themselves.  Jurors also asked to hear the definition of deadly force again.
"In my opinion, they are absolutely wanting to make sure that when they render their decision, no one can say to them, 'You didn't look at all the evidence, you didn't consider all the facts of the case.'" said WCCB Charlotte legal contributor John Snyder.
The judge also gave jurors transcripts from the video of the other officers' interviews after the shooting, still photographs from the dash cam video and photos of the position of the patrol cars.
We will continue following this for you as the jury continues making its decision.